For kids and parents who desperately need time to rest, it can be miserable when they suffer from cough and cold.
One can sometimes go for over-the-counter medicine for cough and cold, cough syrup for children, and cough medicine for adults that are found on the shelves of pharmacies.
Also how to use the medicine safely when needed.
How to Use Cold Meds Safely
For some people, whenever they catch a cold the first thing they demand from their doctor is an antibiotic.
Note that antibiotics cannot cure viral infections like a cough or cold but it is best suited for bacteria infections.
Here are things to bear in mind when choosing HURIX'S product for cough and cold to kids: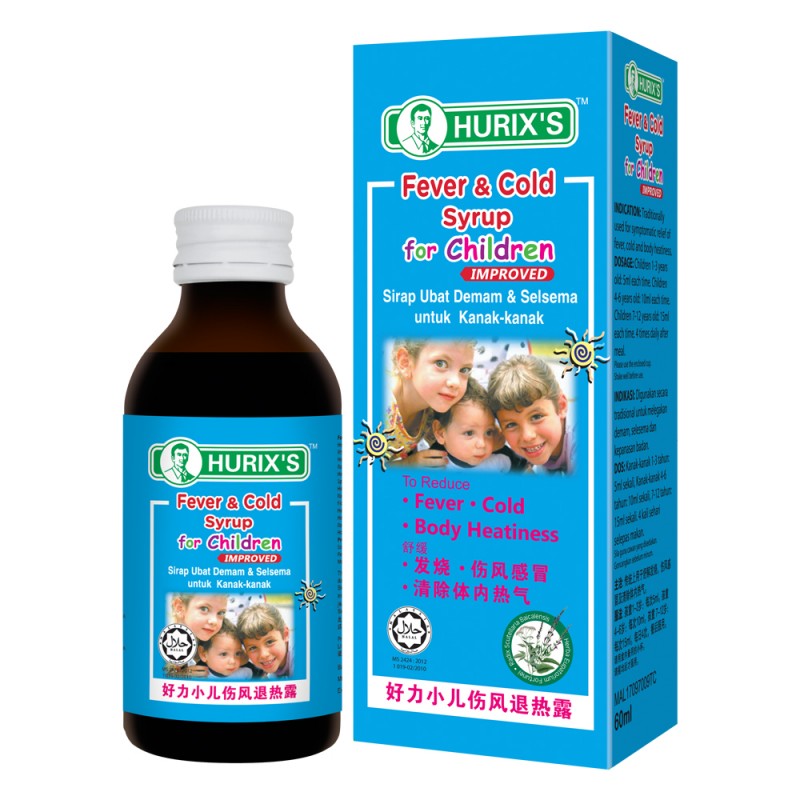 For a fever, start with HURIX'S Fever & Cold Syrup For Children (MAL17097009TC).
For a fever and cold, start with HURIX'S FEVER & COLD SYRUP FOR CHILDREN (MAL17097009TC).: This medicine is traditionally used for symptomatic relief of fever and cold.
For a cough, start with HURIX'S SIRAP UBAT BATUK UNTUK KANAK-KANAK (MAL20033451TC): This medicine is traditionally used to relieve cough and reducing phlegm.
For a fever, cold, cough and phlegm, start with HURIX'S SIRAP GAMAT & MADU PLUS UNTUK KANAK-KANAK (MAL16090049TC): This medicine is traditionally used for the relief of cough, reduction of phlegm, relief of fever, cold and body heatiness.
Check for age limits: Be sure to properly check the age limit of the medicine carefully before you administer it to the child.
Make sure that medications don't overlap: Check the ingredients of the medicine to prevent giving an overdose.
Choose single-ingredient products: Check the products carefully so you don't treat multiple symptoms and cause side effects.
Others include:
Understand dosing instructions.
For liquids, always use the dosing tool that comes with the product.
Keep all medicines up high and out of sight.
When in doubt, ask your pharmacist or doctor.
Last but not least, it is advisable to stay away from 'word of mouth' and 'recommendations' from unproven sources.
Find more Hurix's natural children's medicine options on our website.
This is a traditional product advertisement. KKLIU 2886/2019
Travelling light is non-negotiable for most people. However, if you aren't looking forward to experiencing what medical care in an unfamiliar area looks like, perhaps, making some room in your packing bag or luggage for some basic medical provisions might just be your best decision yet.
No matter where you choose to go and for whatever reason – work-related or for a vacation – your health should be your priority.
While travel can help broaden your mental horizon and refresh your zeal and motivation for work or life in general, the journey is also packed with several chances for illnesses and injuries.
Many ailments associated with travelling can be trashed out in a flash with only a few pills. Consequently, it is best you take a handful of the most essential of them.
If you perhaps have need for any kind of prescription medicine, it is best you go with one that would last in your trip. It is also highly essential that you take prescription drugs packaged in their original labelled bottles. Here are a number of drugs you need for your trip.
1. Mild Pain Reliever
You might end up sore in your thighs, hands or even suffer a headache due to the stress of the journey or while dragging and lifting luggage. If that is the case then, pain relievers would do you a lot of good.
While some are more effective for headaches, others might suffice when you need to reduce swelling or inflammation of a unique spot on your body.
Be careful not to use more than the recommended dosage indicated on the bottle label as indiscriminate usage can hurt your liver or kidneys.
2. Antihistamine

As complex as the name sounds, they work quite simply. They come in handy if you're prone to allergies triggered by exposure to a new environment.
It is important to mention that some of them cause drowsiness, so be sure to use them when you have free time on your hands.
3. Antibiotic ointment
While packing and unpacking your luggage, there is a slight chance that you sustain a little cut or a bruise.
Most of these slight injuries should heal on their own but antibiotic ointments keep the open wounds free from infections and help them heal faster.
That said, it is essential that you wash the open wound with soap and water before applying an antibiotic ointment. Next, you could also apply Hurix's Krim Luka Aloe Vera Plus, which is traditionally used for the relief of minor cuts and minor burns, and helps maintain healthy skin.If after all said and done, you notice signs of infections such as swelling or redness, it is high time you see a doctor.
4. Wound dressings
In the case of an injury, wound dressings such as bandages, gauze swabs and steristrips should be available to aid healing.
5. Repellent or cream for insect bites
If you're travelling to a tropical area, and bitten by insect, you can take Hurix's Mos'Q Cream which traditionally used to relieve insect bites, minor skins itch eg rashes.
6. Cough medicine
It is not uncommon to suffer a flu or cough when you change environment or take a long trip. This necessitates the need for you to take along some fever medicine or cough syrup for children, such as Hurix's Fever & Cold Syrup For Children (Improved) and Hurix's Sirap Gamat & Madu Plus untuk Kanak-kanak if you are travelling with a host of kids.
These medicines can relieve you of the common cold, running nose, nasal congestion, fever, sore throat and by extension cough. They also help in reducing the phlegm in your airways and general body heatiness.
If you aren't a fan of popping over-the-counter pills, you could employ the use of a natural cough medicine such as Hurix's Sirap Batuk Buah Lautan and tea made with honey. This is also a good alternative to dry cough medicine.
Hurix's Travel-care Capsule
When visiting a foreign country, travelling on buses, aeroplanes and even ships is inevitable. Thus Hurix's Travel-Care Capsule may come in handy.
Produced from various types of natural herbs, it helps in the prevention of carsick, seasick or airsick, and is traditionally used for dizziness, headache, nausea and vomiting while traveling.
Hurix's Sto-mach 8
If you're travelling to countries like Thailand and Indonesia, you know spicy foods are their delicacy.
Coupled with the irregular eating hour usually experienced during the trip, flatulence, stomachache and digestion can sometimes happen.
In this regard, it's a good idea to pack Hurix's Sto-mach 8, which is traditionally used to relieve stomachache, aid in digestion, flatulence, mild vomiting and mild diarrhea.
Hurix's Pain Relief Massage Balm
Travelling can require plenty of physical movement like walking, especially when visiting attractions such as the Great Wall of China and Disneyland.
For older travellers, muscular pain and back pain are bound to happen. To enjoy peace of mind, pack Hurix's Pain Relief Massage Balm in your carry-on bag.
Hurix's Pain Relief Massage Balm is traditionally used to relieve muscular pain, waist and back pain, joint pain and minor swelling.
In a Nutshell
No matter how near or far your travel destination is, always try to travel with these essential medicines. It saves you a lot of stress!
Some of the cold medicines and cough syrups in Malaysia include Hurix's 600 FluCough Syrup, Hurix's Sirap Ubat Batuk Gamat & Madu Plus and more.
Additionally, some of the natural remedies commonly used are Hurix's Phlegm & Cough Herbs Capsule, Hurix's Sirap Batuk Yan Wo Pi Pa Mi Plus, and more.
For Hurix's complete cough series, visit: https://www.hurixs.com.my/onlinestore/en/14-cough-series
Source: https://matadornetwork.com/read/otc-medications-carry-abroad/