 
HURIX'S 1000 Cold Fever Capsule x3
This package include:

3 x HURIX'S 1000 Cold Fever Capsule 12's
FOC 1 x HURIX'S Cool Inhaler
*FREE Shipping for West Malaysia address
*Only 100 sets available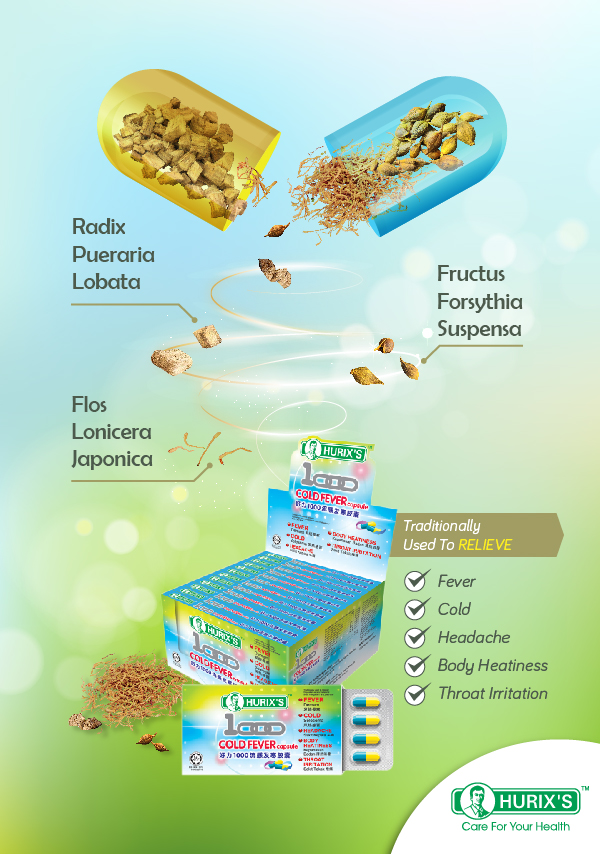 HURIX'S 1000 Cold Fever Capsule 
HURIX'S 1000 Cold Fever Capsule is traditionally used to relieve fever, cold, headache, body heatiness and throat irritation.
Dosage: Adult: 3 capsules each time, Children 7-12 Years Old: 1 capsule each time. 4 times daily after meal
HURIX'S Cool Inhaler  
HURIX'S Cool Inhaler is traditionally used for freshen-up, relief of cold, nasal congestion and snivel.
Direction: Hold inhaler near nostril and gently inhale whenever necessary.
99% home testers agreed Hurix's Cool Inhaler helps to relieve nasal congestion.
99% would recommend Hurix's Cool Inhaler to their friends and family
*Disclaimer:-
Survey conducted by Home Tester Club between 21/11/2019 and 3/1/2020, 249 members have received and home tested Hurix's Cool Inhaler.